Card Readings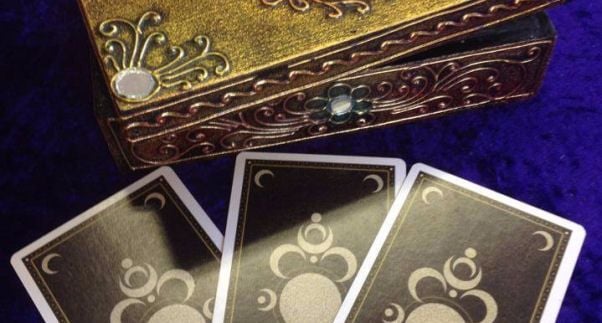 We are lucky enough to have two talented card readers; Psychic Tarot (Kim) and Deviant Moon Tarot Life Path (David).
COVID-19 UPDATE (JUNE 2020)
Please note due to the COVID-19 outbreak and social distancing regulations, until 4th July, we are we unable to conduct face-to-face readings. However we are continuing to offer telephone readings. Please see below:
Face-to-face Reading - 20 mins (£15) and 45 mins (£25) - a detailed reading with David (Sunday to Friday - ask for available times) - Please note Kim will only be conducting telephone readings at this time.
Telephone Reading - 30 mins (£20) - A detailed reading with either Kim (Monday to Friday 10am-4pm) or Dave (7 days a week 4pm-8pm)
To make a booking please contact us using the feedback form here or PM us on our Facebook page here stating your preferred time, date and reader, please also make sure you include your telephone number so we can contact you. Once we have confirmed your booking. we will contact you for a card payment over the phone. Your reader will then call you at the time and date agreed to conduct your reading. Please note payment will be required at the time of booking, in advance of the reading.
Readings:

Insight Card Reading - 20 mins (£15) - A quick 5 card reading if you want an answer to a question or short term guidance

Full Card Reading - 45 mins (£25) - a more detailed reading using the reader's own style, a look ahead at what the universe has in store for you

Life Path Reading - 45 mins (£25) - as above, with different choices, different paths, which will you choose?
Days:
Tuesday (Kim): 11am - 5pm (£15/£25) - Psychic Tarot (Insight / Full)
Thursday (Kim): 11am - 5pm (£15/£25) - Psychic Tarot (Insight / Full)

Sunday (David): 10am - 4pm (£15/£25) - Deviant Moon (Insight / Life Path)

Please contact us for more details or to make a booking.
We DO accept walk-in readings at the shop, but prior booking is recommended to guarantee your slot.